Special Event Station W5SFA
The 2017 QSL Cards and Certificates have been mailed out, and contacts uploaded to LoTW. Thanks to all who participated!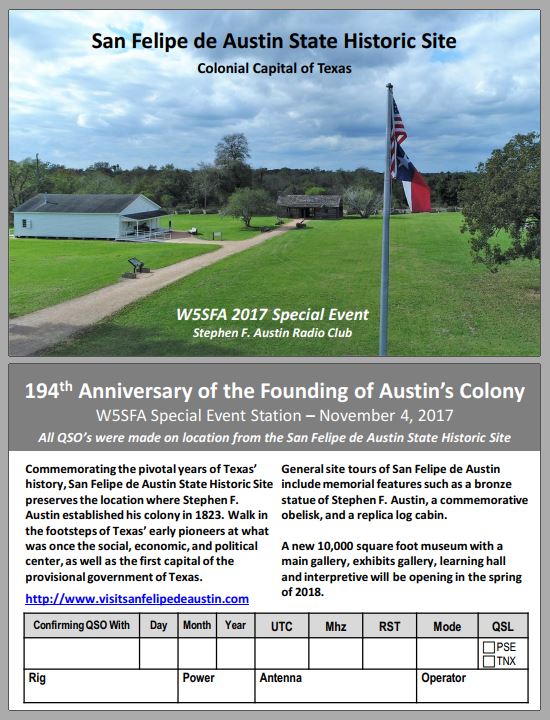 Press Release: Local Amateur Radio Club Celebrates Founding of San Felipe de Austin for 2017:
The San Felipe de Austin State Historic Site will be the location of a special event amateur radio station on Saturday, November 4. W5SFA Radio Club members will operate ham radios to commemorate the 194th anniversary of the founding of Austin's Colony in Texas in 1823.
Amateur radio special event stations celebrate historical or contemporary events. W5SFA Radio Club operators will contact other hams across the state, throughout the USA, and around the world. They will exchange signal reports and give some information about the founding of San Felipe de Austin, its historical significance for the Republic of Texas, and the present day State Historic Site. Other ham radio stations who contact W5SFA (the ham call sign of the Stephen F. Austin Radio Club) may request a color postcard with the image of Stephen F Austin and a certificate confirming the contact. This QSL card and certificate will be sought after for displaying in ham radio "shacks" all over Texas and beyond.
During that same weekend there will be an onsite celebration of Stepen F. Austin's birthday with various activities, presentations and demonstrations. The San Felipe de Austin State Historic site is located on FM 1458, 2.2 miles north of IH-10 exit 723. Visitor center hours are from 9 am - 5 pm Tuesday - Sunday. Admission is free. The public is invited to come by and see amateur radio in operation, November 4 from 9 am until 4 pm.
QSL Card: Send a SASE to address below.
Certificate: Send $1.00 (to cover mailing costs) to the address below. If sending a check, make payable to "Stephen F. Austin Radio Club".
Mailing address: W5SFA, c/o Roger Klein, PO Box 161, New Ulm, TX 78950
We will also be uploading our logs to LoTW. 068817